Ball bearing alternative made of polymer: igus® convinces
Daniel Chen | September 17, 2021
Many plant operators know the problem: when installing metal ball bearings, lubrication is essential. This procedure has to be repeated at regular maintenance intervals and that not only swallows up money, but also a lot of time. As a ball bearing alternative, xiros is particularly suitable.
With xiros polymer ball bearings, you save yourself the hassle of lubrication and do without any drops of grease or oil. Applications in industry come into question as long as predominantly low loads and low speeds prevail. This refers, for example, to multifunctional applications in which the ball bearings come into contact with liquid media such as water or various chemicals. There is no question here that ball bearings made of metal cannot withstand these media due to their specifications.
The ball bearing alternative xiros: why is it so special?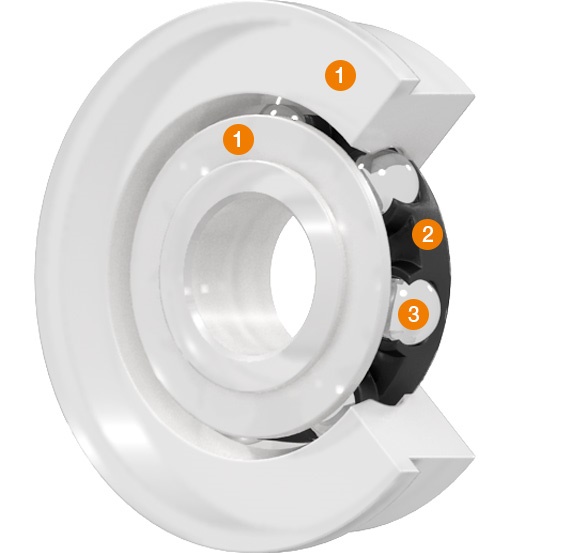 Inner and outer race: whether a xiros polymer ball bearing is suitable depends on the material of the inner and outer races. Due to the large selection of in-house and low-friction ball bearing materials – called xirodur – a wide range of applications can be supported and the service life increased.
Cage: our cages are ideally suited for difficult and adverse environmental influences and are ideally matched to the material of the inner and outer rings. This means that chemicals and temperatures of up to 150°C pose no problems.
Balls/rolling elements: in addition to conventional balls made of stainless steel, balls made of glass as well as polymers (PAI) can be found in the igus portfolio. Glass balls are advantageous when one hundred per cent metal-free is a criterion. Among other things, magnetic resonance imaging in the field of medical technology may be mentioned here. PAI balls are ideal when, for example, vacuum use and higher temperatures are required. Stainless steel balls are used as all-rounders and are particularly cost-effective.
Use the large standard range from xiros and find your suitable ball bearing alternative:
https://www.igus.com.cn/info/plastic-ball-bearings-xiros
The benefits at a glance:
Lubrication-free and low-maintenance
Corrosion resistance
Metal-free when using glass or polymer balls
Temperatures up to +150°C possible
High media resistance
Lightweight
Electrically insulating or ESD-compliant
FDA-compliant (depending on material)
Predictable service life