Sustainable vehicle design with iglidur® plain bearings
Ethen Liang | January 19, 2022
Current trends such as zero-emission vehicles or CO2-neutral production demonstrate the growing importance of sustainability in the automotive industry. In addition to the introduction of stricter emission regulations, this development is being driven in particular by society's growing awareness of the environment and sustainability as well as consumers' increasing interest in sustainable vehicles.
In order to meet the increasing demands, the industry must develop sustainable solutions and focus on both the product and the value.
The company igus® has set itself the goal of achieving CO2 neutral production by 2025. The lubrication-free polymer iglidur® bearings make a significant contribution to the increasing challenges faced.
But how can a polymer plain bearing help make products more sustainable? The production of the plastic granulate requires about 50% less energy than the production of metal. The energy requirement for injection-moulded plastic plain bearings is also about half that of metal bearing alternatives. The reason for this is mainly the lower processing temperature and lower weight.
A polymer plain bearing is up to 7x lighter (with the same dimensions) and lightweight construction is high priority in current vehicle design. This is characterised by electro-mobility. Lower weight means lower consumption and a therefore longer range. The lightweight construction also significantly reduces consumption and emissions in combustion engines.
Another advantage of iglidur® polymer plain bearings in terms of sustainability is the complete elimination of lubricants. But how is that possible? Bearings made of iglidur® materials contain integrated solid lubricants, and do not require additional lubrication. The following diagram shows the impact of lubricants on the environment.
Other advantages:
In addition to the sustainable advantages that iglidur plain bearings can bring, there are other requirements that play an important role in automotive design and are easily fulfilled with iglidur® plain bearings.
Noises always arise where components interact with each other and friction occurs. With the tribologically optimised high-performance polymers, you achieve an especially low coefficient of friction and therefore a quiet application. Another advantage is the plastic's dampening effect, which is better than metal's. iglidur® materials, which were developed with a special focus on dampening effect, reduce background noise in the vehicle interior under high vibration loads and help to meet NVH requirements.
The automotive industry is faced by greater price pressure than any other industry, forcing suppliers in particular to continuously optimise costs.
The application of iglidur® plain bearings is a favourable alternative to expensive metallic models such as e.g. composite metal bearings and rolling bearings and offers cost savings of up to 40%. In addition to lower production costs, intelligent injection moulding designs and lack of lubricants reduce costs by eliminating assembly steps.
Manufactured in the plastic injection moulding process, individual designs can be generated almost without restriction in the in toolmaking department. In various applications, iglidur® plain bearings are perfectly adapted to the geometries of the housings. Time-consuming assembly steps or subsequent forming processes are eliminated or reduced.
Is this of interest?
I would be happy to provide you with free samples, answer your questions and present you with further advantages.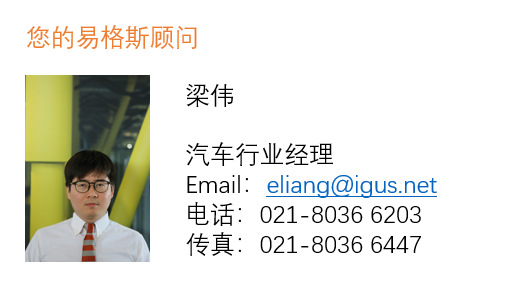 You can find more information in following links:
igus Wechat official account: