Certifications for the food and beverage industry
Ahren Xia | September 18, 2020
Since food and beverages are sensitive products, production and processing must also be precisely tailored to them. This applies in particular to direct food contact.
For this reason, there are igus materials that have been specifically developed for the requirements of the food and beverage industry.
Starting with FDA-compliant, later EU 10/2011-compliant materials were added. The "3A Sanitary Standard" was followed by the dairy and milk processing industry.
Recently, "China FDA"-compliant igus plain bearing materials (China Food Safety Standard GB 4806.7-2016) have become available.
In addition to FDA, EU 10/ 2011 and China FDA conformity, iglidur A500 also conforms to "3A Sanitary Standards". Below is an overview of the different conformities and materials: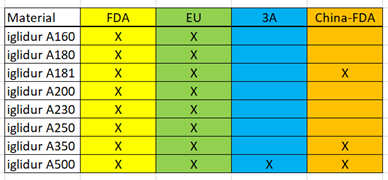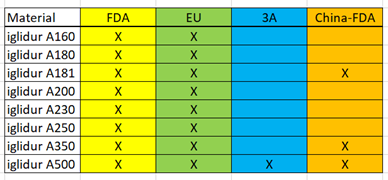 Further information on new products with food certifications can be found under the following links