Why a chainflex guarantee?
Jen Chen | November 17, 2021
Everyday life can present us with surprises and dangers. That's why people like to hedge their bets. They can do this with insurances, but guarantees can also help us feel safe. If an unexpected event occurs, someone will help me. That is certainly what many people think and hope for. But we should still take a closer look at the topic of guarantees. What differences are there and what exactly is behind the guarantee statement?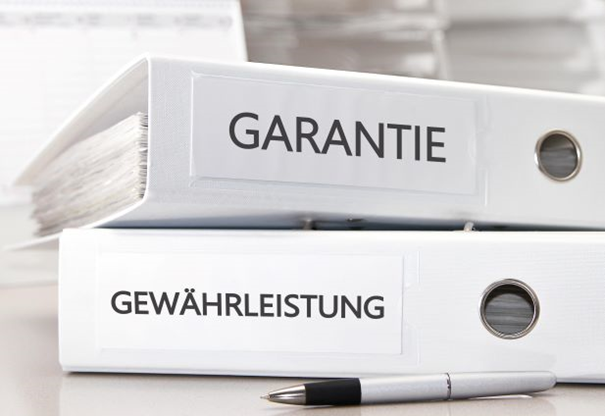 In general, a distinction must be made between the statutory guarantee and an extended guarantee, which goes beyond the statutory guarantee. The statutory guarantee is clearly defined by country, and it compulsory that companies offer it to the customer. The key here is that a product has been produced without defects and functions as it should. A voluntary guarantee, such as the chainflex guarantee, is different. A company like igus has carefully considered such a guarantee promise. After all, the chainflex guarantee is not a promise that the chainflex cables are free of defects upon delivery; it is a functional guarantee for a defined period of movement in an energy chain.
How did the chainflex guarantee originate?
igus has made it its mission to manufacture high-quality products but these products should also help customers cut costs. The goal is to achieve this cost saving, whilst improving the technology. Such an improvement might be enhanced durability. For this, it is necessary to determine a product's service life according to the application parameters. We have accumulated the experience necessary for such a prediction in our 3,800m² test laboratory over the course of many years. Testing is therefore the basis for our service life predictions. Why not take advantage of the experience we have gained over the years?
igus knows its products and their expected service life. So why not use this knowledge to benefit customers in a simple way? A clear statement creates trust. So igus introduced the chainflex warranty in 2013 under the name of "chainflex Guarantee Club". Over time, the warranty program has been continuously improved and, in 2015, it was renamed "chainflex guarantee" .
What does the guarantee cover?
The chainflex guarantee is a clear statement to the customer about the expected service life of a cable in the energy chain. Depending on the application parameters, igus guarantees a service life in the energy chain of up to 40 million double strokes or 36 months, whichever comes first. The condition, of course, is that the installation and application parameters specified in the catalogue are adhered to. These parameters can be easily be checked for each cables series from a table.
Link to explanation of how – was there a post?

Service life calculator
In addition to the chainflex guarantee, igus offers a freely accessible service life calculator as an online tool. The customer can enter application parameters, and the expected service life is displayed instantly. This works even if the bend radius is smaller than the minimum or if a significantly larger bend radius is used for a particular cable. The expected service life for alternative cables is shown, making it easy to see whether another cable is more suitable.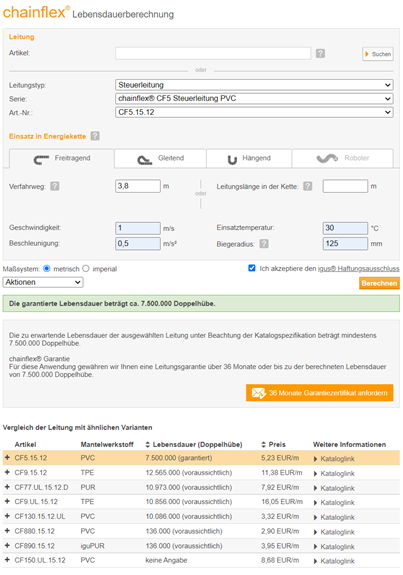 What is behind the chainflex guarantee?
The chainflex guarantee is not just a guarantee statement. It represents an entire process for determining service life. For instance, collected data from many cable tests are used in the chainflex service life calculator. The guaranteed service life is also based on the many cable tests that have been collected over more than 25 years. It has been checked and confirmed by UL Verified, an independent external company.
The advantage for the customer
The advantage is obvious: planning reliability, because the time a cable will need to be replaced can be clearly defined. This means that sudden machine downtimes can be avoided. In the unlikely event of premature cable failure, however, igus will provide a replacement. This assumes that the application parameters have been adhered to and that any third-party responsibility can be ruled out.
The service life calculator even gives you the option of determining a more favourable cable alternative. As you can see in the screenshot of the service life calculator above, comparison types are also listed below the result along with their price and service life.