What happens when a linear bearing has reached the end of its service life?
Kevin Huang | June 10, 2021
Most linear bearings, whether with metallic balls, rolling elements, coating or bonded elements, cannot be reused because of their design. For the user this usually means ordering new linear housings. This results in costs for re-procurement and delivery times. Proper disposal is also an additional challenge. Many bearings must be disposed of in hazardous waste due to the lubricants used.
Not so with igus. All housing components of drylin linear bearings, whether round or open or in linear carriages, can be 100% reused.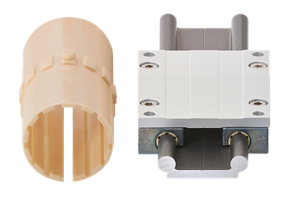 Replace only the linear bearings and save
The drylin linear bearings are the only element that is replaced for smooth operation. Remove the old liner from the housing, clip in the new one and the system is as new. For the user this means low costs for liners and bearings. All housings and carriages can be completely reused in a resource-conserving manner. Storage costs are low because the liners are light and small. A low shipping weight for 24 hr deliveries by courier services or easy transportation by car, plane or train round off the total package. It is also possible to choose a different plain bearing material and therefore the complete drylin linear bearing can be used e.g. on another shaft or in other temperature ranges. A plus in flexibility.
Completely new and simple – for a planned bearing replacement, igus offers the possibility of checking the bearing wear by LED and at the push of a button. Bearings can be replaced when it is convenient and not when the entire system comes to an unwanted stop because of a failure.
Tip.
Change the bearing even faster and reduce further downtime: the following products make it feasible to do it directly on the rail or shaft without disassembly.
drylin W exchange bearing WJ200UMA
drylin R splittable linear housings TJUM and RJUMP
Do you still have questions or would you like to discuss your project with an expert? We're here to help.
Your igus linear technolodgy expert: