Suitable for the desert! igubal pillow block bearings without lubrication align solar panels
Jen Chen | December 15, 2020
To enable solar panels to generate energy efficiently, solar park operators rely on movable modules that automatically align themselves to the position of the sun and thus ensure a high energy yield. igus has developed the igubal ESQM pillow block bearing specifically for mounting the modules on square profiles and has now expanded it with two additional dimensions. Plant operators worldwide receive a lubrication-free solution, resistant to dust and dirt, whose durability has been tested in the laboratory and is guaranteed for 25 years.
One economy that is currently booming is the photovoltaic industry. In the first half of 2020 alone, 20% more plants were put into operation in Germany than in 2019. This is shown by the figures of the Federal Association for the German Solar Industry. Solar energy is not only used in Germany, but worldwide. In Spain, photovoltaic systems account for 19% of electricity generation. Plant manufacturers of such photovoltaic fields are facing increasing competition and cost pressure. The electricity production costs should be very low and the utilisation of the modules very high. To this end, more and more operators are turning to bifacial modules that capture the incident light not only via the front but also via the back of the module.
To make the bearing of solar panels safe on square tubes, igus has developed the ESQM series of igubal pillow block bearings, a reliable and tested solution made of high-performance polymer. "Due to the high demand for our bearings in the solar industry, we have now extended our series to include sizes, 100x100mm and 140x140mm. In the dimensions 110x110mm and 120x120mm, the bearing is already used 500,000 times on square tubes worldwide. With the new sizes, we can now offer other suppliers a long-lasting solution", explains Richard Won, Industry Manager Renewable Energy at igus GmbH.
Test confirms: Bearings last 72 years
The igubal bearing consists of a polymer housing made of igumid G and a spherical ball made of iglidur J4. The tribo-polymers ensure that the bearing is UV-resistant and corrosion-free. In addition, the pillow block bearing is completely lubrication-free, which makes it insensitive to dust and dirt and maintenance-free. At the same time, it easily compensates for misalignments, caused by an uneven surface, for example.
In the company's own 3,800 square metre test laboratory, the service life, wear resistance and load capacity were examined under real loads of the daily motion sequence, simulated in a time-lapse. The number of movements achieved under a load of 1.5 tons corresponds to a service life of 72 years. This is why igus guarantees a runtime of 25 years, which corresponds to the standard service life of a solar module.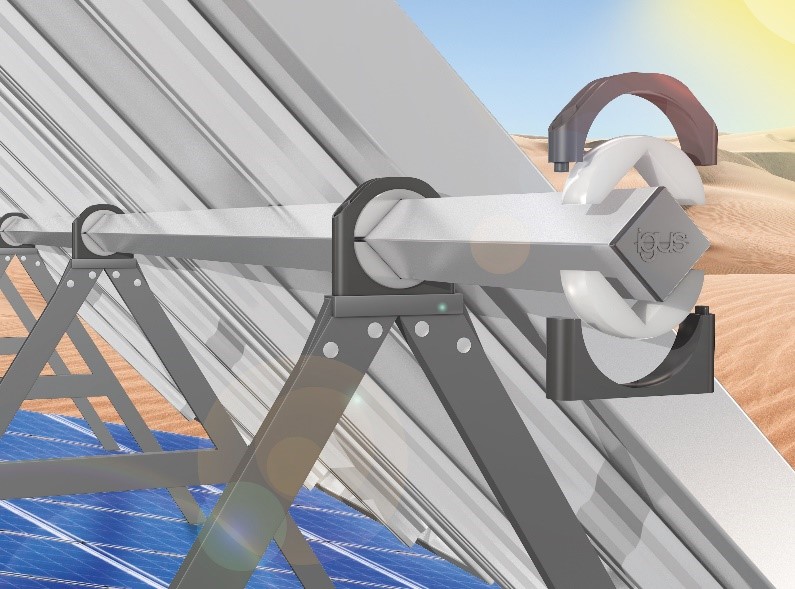 Further information about the solar pedestal bearing can be found at: https://www.igus.eu/info/n20-09-03-igubal-solar-pillow-block-bearing?L=en