Hygienic design with plastic plain bearings
Ahren Xia | September 16, 2020
Manufacturer of filling systems, miromatic, uses the igus modular construction kit
Machines from miromatic fill containers with foodstuffs such as yoghurt fully automatically. The requirements regarding the hygiene and availability of the machines in such cases are high. The igus plain bearings made of high-performance plastics with incorporated lubricant prove their worth under these conditions.
In the Allgäu, the entire process chain of the food industry is at home – including machinery and plant construction. This chain begins with the well-fed cows of numerous farms and continues with renowned dairies and food processing companies. Moreover, renowned machinery and plant manufacturers based in the region specialise in the processing, filling and packaging of foodstuffs, with a focus on dairy products.
European leader in demanding areas of responsibility
These include Michael Rothdach GmbH in Egg an der Günz, which under the brand name miromatic develops mixing plants for fruit yoghurt as well as bucket filling plants for foodstuffs such as yoghurt, mustard, ketchup and sauces and is the European market leader in this highly specialised market segment.
The miromatic filling machines are in use worldwide. They are individually configured on the basis of the customer requirements, whereby the designers can resort to a modular system of individual standard stations. There are, for example, functional units for the process steps such as provision of empty containers, filling process (with weighing or inline flow measurement), lid supply and separation, lidding, sealing and labelling. Markus Gast, in charge of mechanical design: "We modify and link these modules according to customer requirements. And for special requirements, we also implement complete special designs. " In principle, the company works with a high degree of vertical integration. Both CNC turning and machining and switch cabinet construction are carried out in-house.The company miromatic specialises in fruit yoghurt blenders and bucket fillers for foodstuffs, and is the European market leader in this segment.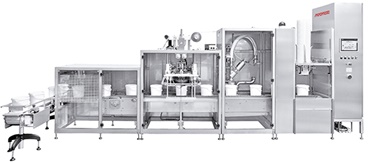 High standards of hygiene
Developers have to meet high availability requirements for all systems. A 24/7 operation is the rule rather than the exception. In addition, very strict hygiene requirements apply. Dairy products are very critical in this regard. Therefore miromatic has developed different hygiene and sterile concepts. This includes a new line for the aseptic filling of dairy products under sterile air overlay. All systems are designed to withstand frequent (i.e. at least daily) cleaning with the usual methods (more or less aggressive cleaning agents, superheated steam, high pressure). In addition, the exposed drive elements are lubrication-free to prevent contamination, and the components and materials used are FDA-approved.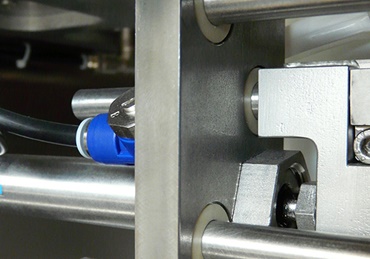 Plain bearings from modular construction kit
The igus plain bearings made of high-performance polymers perfectly fulfil this requirement profile. They are maintenance-free and wear-free, form a good friction pairing with both aluminium and stainless steel, and approved polymer materials have also been developed specifically for food machinery construction. For these reasons, miromatic design engineers have been using a wide range of igus plain bearings for more than ten years.

Here are some examples: bearing bushes made of iglidur ensure precise guidance of rotary and linear movements on various guiding and adjusting elements. Depending on the application, housing bearings are also used to simplify both production and assembly. In ball screws, igubal spherical plain bearings compensate for misalignments. And the easy-to-use format adjustment at the sealing stations is implemented with iglidur J plain bearings.

last but not least, the second business segment products of igus are also used: energy chains supply energy and signals to the moving axes of the mixing and filling systems.Container sorting – iglidur J bearing bushes ensure precise guidance in the linear stroke.The lid sorting is implemented by drylin R linear guides. These pillow blocks consist of two parts and simplify the installation of the systems.Lead screws are mounted in igubal spherical bearings to compensate for misalignments.The height adjustment of the filling station is implemented in the vertical linear stroke with iglidur J plain bearings. A plastic energy chain from igus ensures safe cable guidance.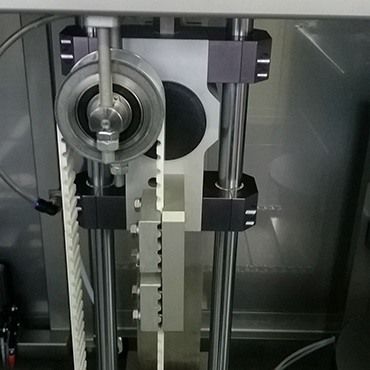 Quick ordering and prompt delivery
The appropriate type of material is selected from the iglidur range according to the application. Markus Gast: "In many cases, we use 'all-rounders' like iglidur J. In some cases, however, the bearings also have to meet special requirements for temperature, resistance to cleaning media or moisture absorption. " There are specific iglidur polymers for these and other specifications.

The miromatic engineers appreciate the fast delivery capability. Markus Gast: "We hardly manufacture series machines and therefore have no continuous need for plain bearings. Therefore it is practical that we do not have to keep any igus bearings and can order on a project-related basis – according to the motto 'ordered & delivered'. This works very well. " It is very likely that miromatic will be using further ranges of igus plain bearings or testing other polymer materials in the future. Because in September the mobile igus trade fair took place at the factory premises. In the "Pop up" trade fair stand, igus specialists presented all the latest news and their application possibilities – and offered suggestions for the technicians and designers of the company.